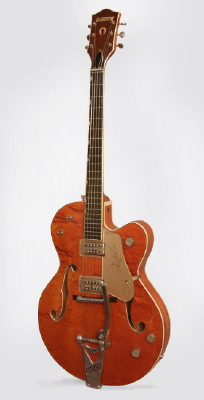 Gretsch Chet Atkins Hollow Body Model 6120 Arch Top Hollow Body Electric Guitar (1961)
Along with classic vintage instruments, we handle many guitars that fall into the category of extremely rare and bizarre. Retrofret provides unique and private show room experience with a museum quality restoration and repair facility on premises. Visitors are invited to browse and play a wide and unusual selection of acoustic & electric guitars, basses, banjos, mandolins, ukuleles, effects pedals and amps.
"Entering the serene, light-filled showroom, you are greeted by rows of Martin acoustic guitars propped on stands on a large Oriental rug. To the right is a wall of banjos, and to the left a room of electric guitars, where Fenders and Gibsons hang from the walls like so many lacquered lollipops."
Our inventory is constantly changing so please browse the various category listings at the top of each page, our Just_Arrived! section or Search our entire database by keyword to see what's currently available. Feel free Contact us for more information on any item.
Any item can be held for 24 hours upon request. We offer a 48 hour approval period to help you make the perfect purchase.
In the area? Why not stop by the showroom. We are not just an on-line business, so feel free to visit us Monday to Friday from 12noon - 7pm and Saturdays 12noon - 6pm.
~ New York City's Finest Stringed Instrument Repair Shop ~
...and we've just expanded our service center for fast turn around time!
Our reputation for skillful repairs and quality restorations dates back to the 1970's. Today the Retrofret service facility is the most complete lutherie shop on the east coast. From set-ups and minor adjustments to historic re-builds, we welcome every type of project with the same degree of care.
"Every consideration is given to preserving each instrument's heritage, tone and character - the instruments that are dead mint as much as guitars that took a lickin' and kept on pickin'..."
- Steve Uhrik
Contact us by phone at 718 237 6092 with requests and questions or to set up a repair appointment.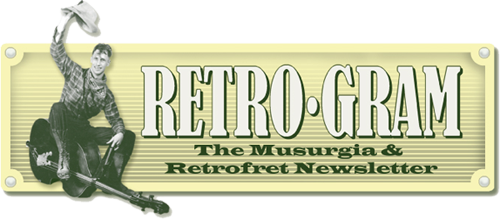 Sign up for the Retro-Gram Newsletter! Stay in touch with a Retro-Gram. Receive our Electronic Newsletter with the most recent arrivals, shop news, special offers and photo updates. It's a great way to keep up to date with what's cooking at Retrofret.
New York String Service, our parent company, was founded by Steve Uhrik in 1983. Since then, we have been serving musicians and collectors both locally and worldwide from our shop in downtown Brooklyn, NY. Please visit our companion site, www.musurgia.com featuring an extremely diverse selection of antique instruments, memorabilia, photos and esoterica relating to the musical experience.
Retrofret Vintage Guitars is located at 233 Butler St. (between Nevins & Bond Streets) in the Gowanus section of Brooklyn, NY. Our showroom and repair shop is on the second floor of a 19th century red brick industrial building.